What Is The High Tech Lab?
The High Tech Lab is an open and inclusive makerspace which is a part of Maakleerplek Leuven, for people from all backgrounds to come and innovate, create art, and watch their ideas come to life.
We aim to provide people with the tools and technology necessary for them to come and ideate, design and then prototype these designs.
Our primary focus lies in empowering the community to create sustainable products keeping in mind the idea of circularity in design and manufacturing.
---
LASER CUTTER
3D PRINTER
MICROSCOPE
The Laser Cutter at the High Tech Lab is one of the biggest in Leuven, and is capable of cutting and engraving a wide variety of materials, and is capable of producing not just a prototype of your mechanical design, but also some wonderful designs and pieces of art!
The High Tech Lab is equipped with a series of 3-D printers, which offer a completely new and much more sustainable way of manufacturing your designs. We also have a 3-D printing club, where people meet every Saturday to learn, ideate and produce innovative models of our 3-D printers!
The High Tech Lab also has new microscopes, which has expanded the range of equipment that we have, and adds a new dimension to the work that we do. With this, we aim to conduct research into micro plastics, allowing us to work with one of the biggest threats that we face today.
We welcome such innovative research ideas and projects, and would love to see you come in with your own problem statements, and conduct research over here,
More Information on our machines can be found here
---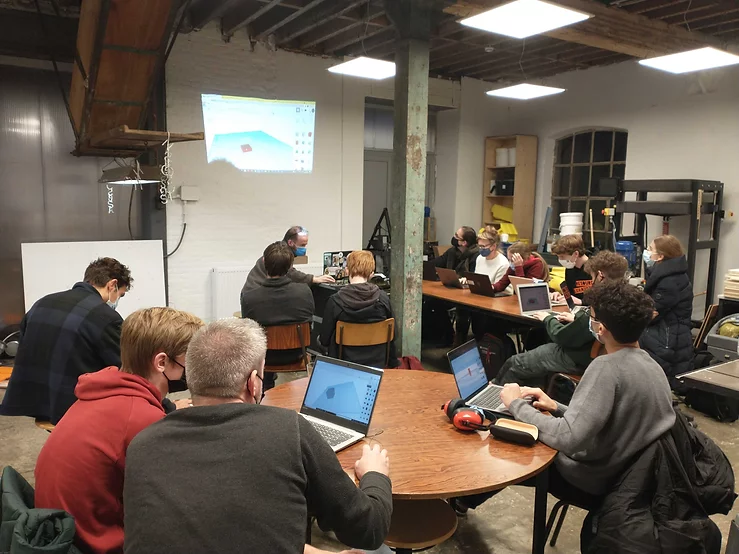 EDUCATIONAL INITIATIVES
At the High Tech Lab, we believe in empowering individuals to work creatively on their own projects, and this starts by providing the means and the knowledge necessary to be able to do so. We aim to give people the opportunity to learn about the different processes and ideas related to sustainable manufacturing and design.
We offer workshops in both Dutch and English every month on topics ranging from the basics of 3-D printing and laser cutting, to more innovative ideas like design thinking and sustainable design.
3D PRINT WORKSHOPS
An introduction to 3D printing and a basic, hands-on tutorial on 3D modelling in TinkerCAD will be given by the volunteer team at the High Tech Lab. Sustainable design principles for 3D printing are emphasised, by learning how to fix broken objects instead of buying new ones!
LASER CUTTING WORKSHOPS
An outlook into the process of Laser Cutting, its intricacies, as well as the preparation of a piece and a demonstration of the software needed to do so.
All the basics are explained in our laser cutting manual so we can use the workshops for practical exercises.
CIRCULAR DESIGN THINKING
A workshop where we guide you through your creative journey, whether you're a maker, an artist or a thinker. We help you work with your prototypes by using design thinking as an approach.
SPECIALIZED WORKSHOPS
We offer specialized workshops and learning tracks, intended to work on a range of fun and innovative projects. An example of this is our workshop on building your own Tetris maker from scratch.
We also welcome ideas to conduct your own projects here, and possibly make it into a workshop!
All Sessions and workshops can be found in the Calendar here.
---
YOUNG MAKER LAB
Every Sunday, we open up the lab to young makers and innovators from the ages of 11 – 14, who wish to come and explore their curiosity. They work on a range of projects and have produced some fantastic products.
​
This lies as a part of our aim to provide a space for everyone of all ages to come and ideate, and learn. We wish to empower kids to explore and learn by practical methods, and the Young Maker Lab gives them the space and resources to do so.
---
YOUR SUPPORT
The High Tech Lab is completely volunteer-run, and this has helped us make it a more inclusive and friendly working space. We welcome your support in any manner possible, either through donations, or spreading the word about the lab and the work we do, and any way you feel like! Help us continue growing and building on our vision of empowering makers across society!
---
PRACTICAL INFORMATION:
OPENING HOURS
The High Tech lab is open for everyone every Thursday evening (18:00 – 22:00). To use our machines or visit our lab outside of these hours, contact us at hightechlab@maakleerplekleuven.be .
COSTS
Access to the High Tech lab is free, but you need to pay for the usage of the machines:
Lasercutter at 0.50 EUR/min laser cutter with a minimum of 5 EUR
3D Printing at 0.10 EUR per gram, with a minimum of 5 EUR
FOLLOW US ON OUR SOCIALS!
---
Newsletter
Subscribe to our monthly newsletter to receive updates on our workshops, events, and other useful information.
By submitting this form you agree to our privacy policy.