---
Empowering people to be AWESOME
Circular for the future
Plastic pollution is a major problem. The High Tech Lab is where doers, thinkers, darers, and dreamers get together to come up with machines and ideas to contribute to delivering solutions, such as plastic recycling machines. This space is intended to become a circular creation lab where waste is used as the source for innovative materials or products. Want to come and design or build? Join us in experimenting with our machines.
Precious plastics against plastic pollution
Did you hear about the 'shredder', 'injection machine', 'extrusion machine', or 'heat press'? Come on over, discover what these exotic names mean, and start using them! Together we'll make the High Tech Lab into a circular creation lab where we'll get to work with plastics and biomaterials. Here we don't see trash, but possibilities for new products and materials. This is how we're building a better future, a better society, step by step.
Let's get to work!
In order to realize this mission and thus tackle social problems, we work with, among other things, a 3D printer and laser cutter. You are free to experiment with your own cool ideas, or you can join other creatives during a workshop or an open maker evening. Inspiration, cross-pollination, and innovative results are guaranteed!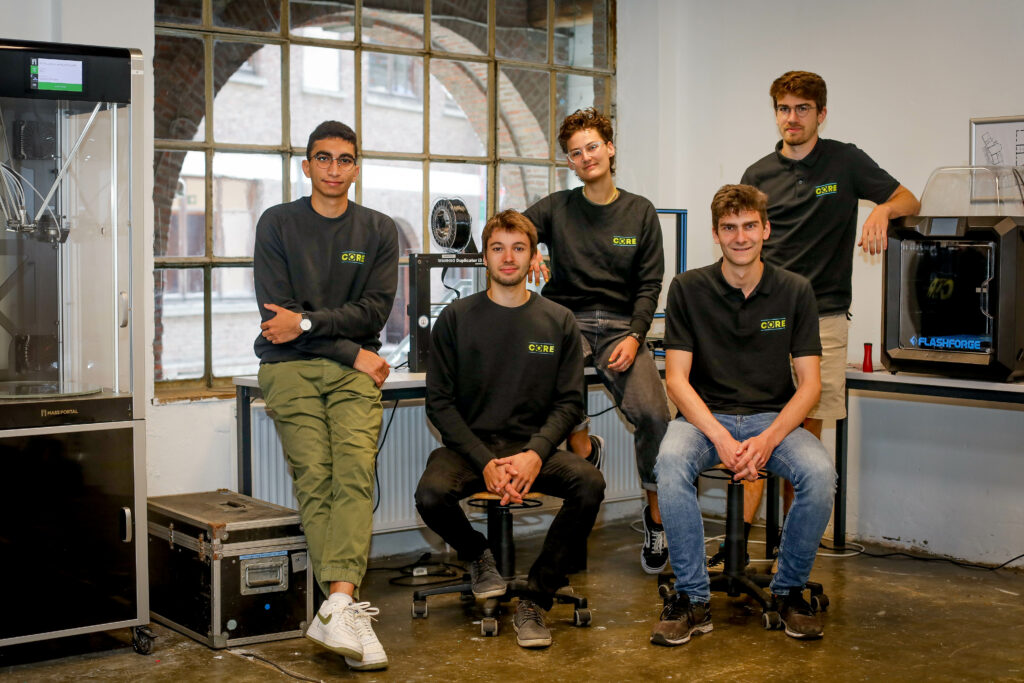 ---
Practical info:
The High Tech lab is open for everyone every Thursday evening (18:00 – 22:00) and the first Saturday evening of the month (18:00-22:00). Outside of these hours, you can also make an appointment via hightechlab@thinkcore.be.
Available machines:
CO2 lasercutter (100w, 150x90cm): kan gebruikt worden met allerlei materialen. Indien je eigen materiaal gebruikt moet deze eerst nagekeken worden door een medewerker.
3D printers van verschillende groottes (meer info volgt binnenkort)
Access to the High Tech lab is free, but you need to pay for the usage of the machines:
Lasercutter aan 0,50 EUR/min lasercutter met minimum van 10 EUR
3D Printen aan 0,10 EUR per gram
We also regularly organize workshops (in English or Dutch) on sustainable design in the High Tech Lab. You can find them on the calendar. Admission is free, but donations are always appreciated. Reservation is necessary.
Every first Wednesday evening of the month: "Intro to 3D printing"
Every third Wednesday evening of the month: "Life cycle of a plastic bottle"
---
Take part in LE(J)ON's upcycling River challenge
Do you want to contribute to a cleaner Leuven? Curious about how you can make new, innovative products from plastic waste? Would you like to learn how to turn an idea into a prototype and are you between 16 and 25 years old?
Between the beginning of March and the end of April 2022, you can participate in LE(J)ON's Upcycling River challenge in the High Tech Lab. During this challenge, you will work as a team with plastic waste that you yourself remove from the Dijle and the Vaart to make into a new sports attribute for Leuven sports associations. You decide what to make and will receive support from the technical experts of the High Tech Lab during the process!
Would you like to know more? Pre-register here
---